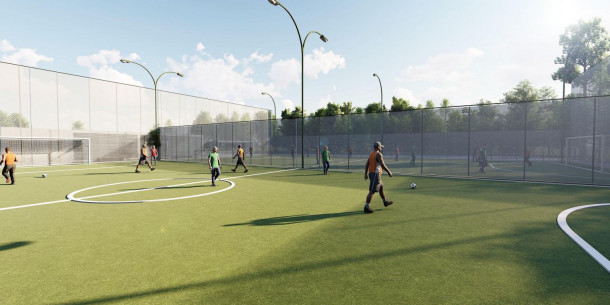 Investment tender to be held in the park on the Dnieper embankment
An investment competition will be held to equip two sports grounds on the territory of the park on the Dnieper embankment in the Bay of Berkovschina in the Darnytskyi district. This is stated in the resolution of the Kyiv city state administration № 312.
According to the document, fields will be created for mini-football with artificial coverage of an approximate area of 0.25 hectares. Supports, lights, and four temporary structures will also be installed. The investor should do landscaping in order to organize ecological or "green" recreation of the population.
The final technical and economic indicators and details of the investment object will be determined on the basis of the project documentation developed and approved in accordance with the established procedure.
The project owner for the maintenance of the project is a utility company for the maintenance of green spaces of the Darnytskyi district of Kyiv. Municipal Enterprise "Kyiv Investment Agency" as the customer of preparatory (pre-investment) works should develop indicative technical and economic indicators, possible pre-design proposals for the object of investment and proposals for the terms and conditions of investment tender.
The organization of the investment competition is entrusted to a standing tender commission for attracting investors to finance the construction, restoration, and other objects of residential and non-residential purposes, unfinished construction, engineering and transport infrastructure of the city of Kyiv.
he announcement of the beginning of the receipt of competitive bids will be published in the city newspaper "Khreschatyk Kyiv".