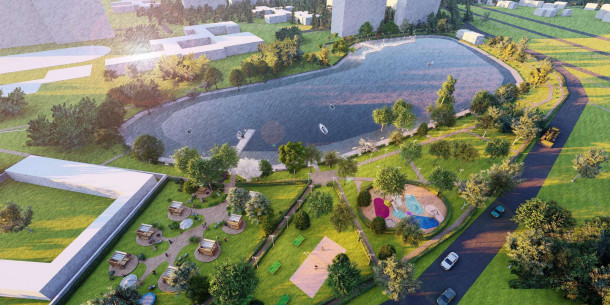 ​An investor will be involved in the arrangement of a recreation area near Lake Vira in the Sviatoshynskyi district
A recreation area will be set up near Lake Vira in the Sviatoshynskyi district. The tender for attracting an investor to this project is provided by the order of the Kyiv City State Administration № 1337.
In particular, it is planned to improve the area near the lake: to arrange pavilions, a volleyball court, a playground for table tennis, a kids playground, a place for a walk with stone pavers, platforms near the reservoir.
The communal enterprise for the maintenance of green plantations of the Sviatoshynskyi district of Kyiv has been determined as the customer of the project implementation. A 0.76 ha plot of land at the intersection of Kiltseva Doroha Street and Zodchykh Street (along Lake Vira) was granted the status of a park by the decision of the Kyiv City Council № 543/543. Therefore, the project will be implemented without the demolition of greenery and capital construction. Installation only prefabricated structures without foundations will not harm natural objects. The investor (winner of the tender) will be obliged to ensure the technical possibility of dismantling all components of the investment object without damaging the green area.
Investment tenders are also planned near other reservoirs of Kyiv. Thus, it is proposed to create active entertainment areas with street simulators and a barbecue place near the pond № 14 on the Nyvka River (Verkhovyna Street) in Sviatoshynskyi district, as well as near an artificial reservoir on Mykola Bazhana Avenue (Lebedyne) in Darnytskyi district.