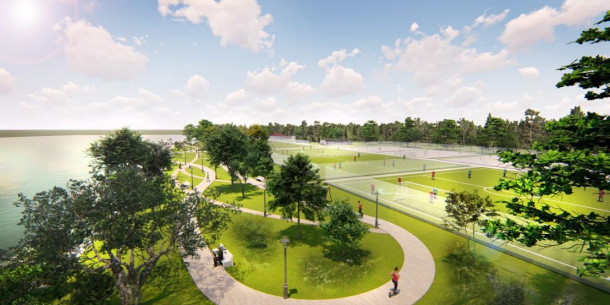 A beach volleyball and other water sports center will be set up on Dolobetsky Island
A beach volleyball, football and other water sports centre will be set up on Dolobetsky Island. For this purpose, an investor will be attracted. This is stated in the order of the Kyiv City State Administration № 2660 dated 17.12.2021.
The customer of the project is a municipal enterprise for the maintenance of green areas of the Dnieprovskyi district of Kyiv. Pre-investment works are entrusted to Municipal Enterprise "Kyiv Investment Agency".
The implementation of the project does not involve capital construction, only the installation of prefabricated structures without foundations. The construction of the investment object will be carried out without damaging the natural objects located on the territory. The investor (winner of the tender) will be obliged to ensure the technical possibility of dismantling all components of the investment object without damaging the territory and natural objects located on it.
Preliminarily, the project envisages equipping the centre of beach volleyball, beach football and other beach sports with sports and recreational facilities, including outdoor playgrounds for beach sports, football fields, and landscaping of coastal areas.
Indicative technical and economic indicators and the composition of the investment object will be determined by the municipal enterprise "Kyiv Investment Agency" at the stage of preparatory (pre-design) works.
Source: https://kyivcity.gov.ua/news/