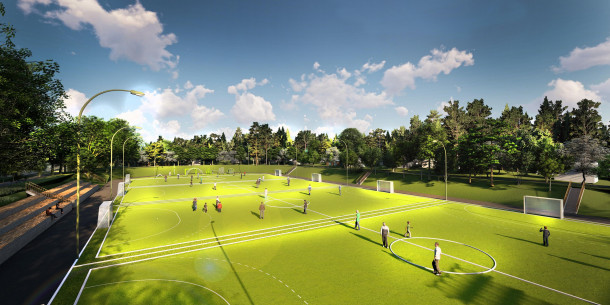 A football field with artificial turf will be arranged on the territory of the school № 236
The investor will be attracted for the arrangement of a football field with an artificial covering on the territory of the I-III degree school № 236 on 144 Akademika Zabolotnyho street in Holosiivskyi district. This is stated in the order of the Kyiv City State Administration № 1268.
The preparation of the terms and conditions of the investment tender is entrusted to the Department of Economics and Investments of the Kyiv City State Administration. The Kyiv Investment Agency will develop indicative technical and economic indicators and pre-design proposals. The customer of the project implementation is the Department of Education of Holosiivskyi District State Administration.
Arrangement of the project implementation area will take place without the removal of greenery. Transport and pedestrian access will be provided through internal passages and driveways from Akademika Zabolotnoho Street.
Landscaping of the sports entertainment area also includes places for less mobile groups, placement of benches, bins, lighting, etc.
The announcement for participation in the tender will be published on the Official Portal of Kyiv (www.kyivcity.gov.ua) and in the "Khreschatyk. Kyiv" newspaper.
It will be recalled that a similar project has already been implemented on the territory of Holosiivskyi Lyceum № 241 on the 12 Holosiivska street in Holosiivskyi district.