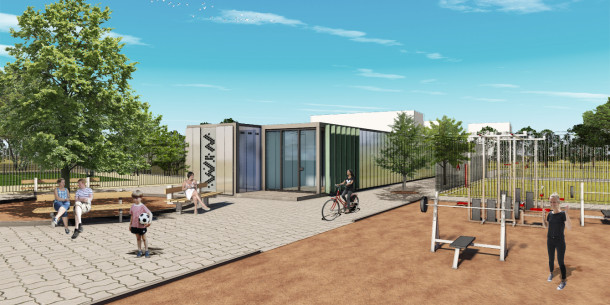 The winner of investment competition for sports grounds arrangement in Nyvky Park has been determined
According to the results of the investment competition for the construction of sports grounds in the park "Nyvky", the winner is the entrepreneur Volodymyr Svirskyi due to the decree of KCSA № 1997.
Thus, according to the terms of the investment project, the investor-winner of the competition will equip two sports fields on the 0.35 hectares in the Nyvky Park in Shevchenkivskyi district of the capital. There will also be the landscaping of the adjoining territory, in particular, paths of figured paving elements will be arranged, urns, benches, stairs will be installed and work on the landscaping of the territory will be carried out. The project documentation of the investment object also includes the installation of lighting and public restrooms.
In addition to the playgrounds, five temporary lightweight structures will be installed to accommodate the changing facilities, inventory, and administrative space.
Investment competition for attracting investors to finance construction, reconstruction, restoration of residential and non-residential objects, unfinished construction, engineering and transport infrastructure of the city of Kyiv was conducted by the Department of Economics and Investments of KCSA.
The announcement of the selection of the winner of the investment competition for the implementation of the project "Arrangement of sports grounds in the territory of Nyvkyi Park" will be published on the official website of the Kyiv City State Administration - www.kyivcity.gov.ua and on the pages of the city newspaper "Khreschatyk Kyiv".