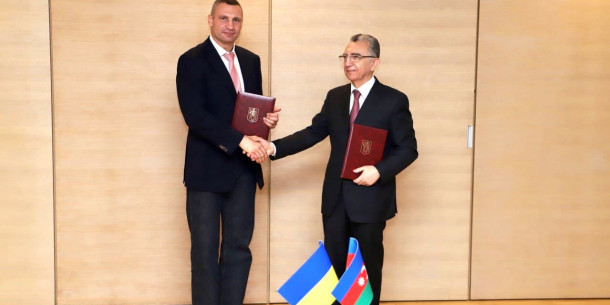 Kyiv and Baku signed a Memorandum of Twinning between the cities
Kyiv Mayor Vitaliy Klitschko and Baku Executive Chairman Eldar Azizov signed a Memorandum of Twinning between the cities.
The signing took place within the framework of the Kyiv Investment Forum - 2021. It is attended by more than 30 speakers from 14 countries, including mayors of European cities and representatives of municipalities, urban planners, international and Ukrainian investors, artists and experts on sustainable development.
"I am very glad that today, during our big Investment Forum, we are taking another important step in mutually beneficial cooperation with our friends. Yes, it is friends, because Kyiv and Baku have been cooperating since 1997. And Ukraine and Azerbaijan have been and remain strategic partners. Kyiv and Baku are implementing joint projects, in particular, in the areas of infrastructure development, industry, culture and tourism", - Vitali Klitschko said.
He noted that two years ago a square named after Muslim Magomayev was opened in Kyiv, where hundreds of trees were planted at the initiative of the embassy and with the support of the Azerbaijan Trade House in Ukraine. A monument to Imadeddin Nasimi, a hero of the Azerbaijani people, was also unveiled in the park.
"I remember my visits to your city. Then we visited the memorial of the largest state flag. And later a similar project was implemented in Kyiv. We got acquainted with the big business project "White City". I am sure it is the embodiment of a comfortable life and convenient modern infrastructure. And this is the experience that Kyiv also needs today. I am pleasantly surprised by how Baku is developing today, how much money is being invested and how much attention the state is paying to the development of the capital. The memorandum we are signing today will allow us to deepen our cooperation, share experiences and interesting ideas. I am sure that it will also contribute to the business of our countries - for the implementation of projects, for profitable investments, for the further development and prosperity of our capitals", - Vitali Klitschko stressed.
In turn, the head of the executive power of Baku Eldar Azizov thanked for the invitation to the Investment Forum. He also noted that the capital of Ukraine has become a reliable partner of Baku.
"Today, relations between Ukraine and Azerbaijan, between Kyiv and Baku - are very constructive. Experts from different fields constantly exchange experience. We have already seen many interesting projects in Kyiv and we have something to learn from you. I am sure that we will only deepen our cooperation", - Eldar Azizov said.
Also on September 9, the capitals of Ukraine and Montenegro signed a memorandum of partnership and cooperation in various fields. Kyiv and Podgorica plan to share experience in the areas of public space planning, infrastructure projects, new technologies and industries. A delegation from Montenegro also arrived to participate in the Kyiv Investment Forum as one of the business cooperation partners.