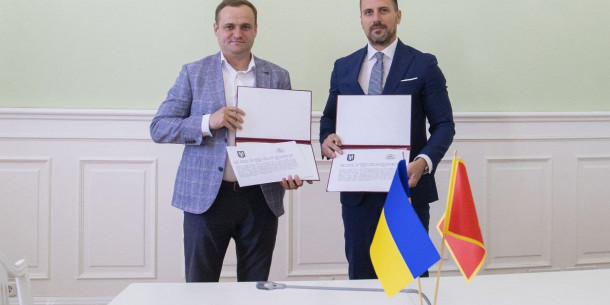 Kyiv signed an agreement on cooperation with the capital of Montenegro, Podgorica sister-city
The capitals of Ukraine and Montenegro signed a memorandum of partnership and cooperation in various fields. Kyiv and Podgorica plan to exchange experience in the areas of public space planning, infrastructure projects, new technologies, and industries. This was announced by Oleksiy Kuleba, First Deputy Head of the Kyiv City State Administration for Self-Government Powers, during a meeting with a delegation from Montenegro.
"We are glad to welcome colleagues from the sister city of Podgorica in Kyiv. I am sure that we have many points of contact in the areas of urban planning, implementation of investment projects, modern technologies, tourism development. We are convinced of fruitful future cooperation. Countries have a lot in common. Montenegro has also gone through a thorny path of struggle for independence, we are united by the choice of civilization,"- Oleksiy Kuleba said.
The delegation from Montenegro was invited to participate in the Investment Forum of Kyiv as one of the partners in business cooperation.
In honour of the friendship between the capitals of the two countries in the Sviatoshynskyi district, an alley was planted, which is a symbol of partnership and future cooperation, the delegation visited the cultural and historical monuments of Kyiv.
On behalf of the Mayor of the capital Vitaliy Klitschko, Oleksiy Kuleba thanked the Ambassador Extraordinary and Plenipotentiary of Montenegro to Ukraine Ms. Drahica Ponorac for assisting in organizing the visit of the delegation of the City Hall of Podgorica to Kyiv. He expressed hope for further ties and exchange of experience between the twin cities.
He noted that the Montenegrin capital, Podgorica, is a desirable partner for Kyiv.
"The city seeks to build strong economic ties with Podgorica City Hall. Such cooperation will give impetus to the development of both cities and create conditions for joint mutually beneficial economic, social and cultural projects, "Oleksiy Kuleba stressed.
The event was supported by the Kyiv City State Administration's International Relations Department.