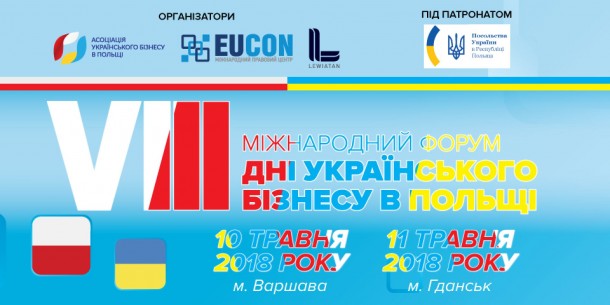 VIII International Forum "Days of Ukrainian Business" will be held in Poland
The International Days of Ukrainian Business in Poland is an annual large-scale event that has been the platform for the exchange of ideas and experiences between representatives of state authorities and business in Poland and Ukraine for the fourth time in a row. It is also a great opportunity for owners and business managers to establish business contacts, find new partners and investors, expand their sales markets and establish new business relationships.
Within the framework of the event, it is planned to discuss a wide range of topical issues of Polish-Ukrainian economic cooperation, in particular, prospects for investing Polish business in the Ukrainian economy, opportunities for increasing trade between countries, prospects for cooperation in the field of renewable energy, construction industry, aviation, railways, water and sea transport, port infrastructure, shipbuilding industry and many others.
This year's forum "Days of Ukrainian Business" will be held under the patronage of the Embassy of Ukraine in the Republic of Poland, the Consulate of Ukraine in Gdansk and with the support of the Transport Committee of the Verkhovna Rada of Ukraine.
Contact person: Olena Vakulik, events@eucon.ua, tel. +380 (44) 2380944