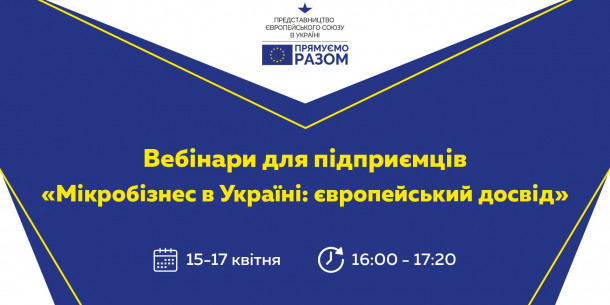 Webinars for entrepreneurs from the EU Delegation to Ukraine "Microbusiness in Ukraine: European Experience"
On April 15-17 the Delegation of the European Union to Ukraine invites to participate in online webinars about opportunities and prospects of the development of microbusiness in the region, legal support, and support for such businesses and the European Union assistance program for microenterprises.
Entrepreneurs, experts in the field of trade and consulting, representatives of business associations, business clubs, and chambers of commerce, journalists of business publications, and all interested are invited to participate.
The Event on Facebook
Participation in the webinars is free and registration is required.
The webinars are conducted by the EU Delegation to Ukraine in cooperation with the Ministry of Economic Development, Trade and Agriculture of Ukraine, the European Enterprise Network (EEN), and the State Enterprise for Export Promotion of Ukraine.
They are the parts within the series of outreach events organized by the EU Delegation to Ukraine throughout the country. The purpose is to explain the importance of the implementation of the Association Agreement between Ukraine and the EU, promotion of European values, and raising the level of awareness among Ukrainians about the development of relations between Ukraine and the EU.
For details about the event, please contact Alice Tyahun, tel +38 (095) 726-54-66, atiagun@internews.ua or Stanislav Korolkov, tel +38 (099) 455-23-75, skorolkov@internews.ua