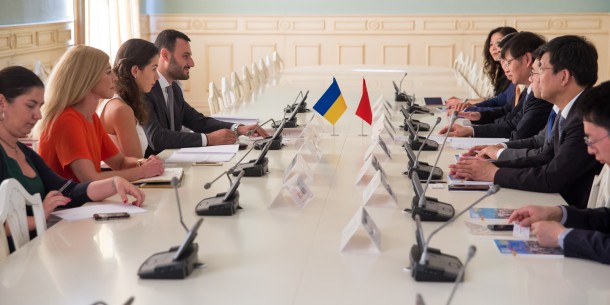 Kyiv intends to expand its partnership with Shanghai
Mutual partnership, opportunities not only for infrastructure and transport, but also for tourism and IT-interaction - this was discussed today during a meeting of the Deputy Chairman of the Kyiv city state administration Dmitry Davtyan with a delegation from Shanghai headed by Deputy Mayor Xu Kunlin.
The parties agreed on the expansion and deepening of mutual cooperation.
"I consider China in general and Shanghai in particular to be extremely important strategic partners for Kyiv. And we are convinced that we should develop not only promising infrastructure and road directions that are already identified by us. I've been to China twice in the past few months and understand that the country is worthy of contact as a technology leader, and as a tourist destination. Actually, there are a lot of directions, indicators of development in Shanghai are impressive, and we would not just take over the experience - we prefer to act as full partners with interesting investment projects ", - said Deputy Chairman Kyiv city state administration Dmitry Davtyan.
According to him, Kyiv, although is smaller, however, has great prospects for development, especially if it chooses to orientate the city, which is reasonably and well-developed.
"Shanghai not only is ready to sign official documents with Kyiv - the guests from the China want a really warm partner relationship. And we support it, we are set up to be mutually beneficial, " said Dmitry Davtyan.
The next step is to have a working visit of Ukrainian officials to the Chinese metropolis, as well as Ukraine's participation in the First China International Imports Exhibition, which will be held in Shanghai in November. Participation in the exhibition has already been confirmed by 128 countries.