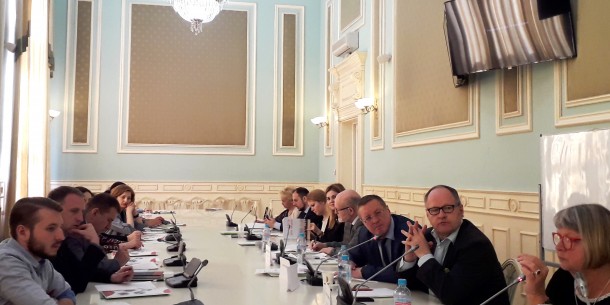 STRONG CITIES - STRONG UKRAINE
Together with the German development agency that provides services in the field of international development cooperation, the of Economics and Investments Department held a workshop on "Attracting Investments and Promoting the Economic Development of the City". The seminar took place on April 23, 2018 in the hall of the Kiev City State Administration. Representatives of specialized structural subdivisions of the Kiev City State Administration took part in it.
Speakers at the seminar were: Matias Brandt - leader of the Project Integrated City Development in Ukraine, with a presentation of "Strong Cities - Strong Ukraine. Technical Cooperation between Germany and Ukraine", as well as Dr. Norbert Neuhaus, ex-deputy mayor of the city of Trier in Germany, whose reports covered topics: "Strategic investment attraction on the example of various European cities: tools for practical promotion of territories".
The project "Integrated urban development in Ukraine" was created within the framework of intergovernmental cooperation between Ukraine and Germany, the aim of which is to develop and implement the concepts of integrated development of Lviv, Chernivtsi, Vinnytsia, Zhytomyr, Poltava and Podilskyi district in Kyiv, taking into account the needs of all leading spheres of the city life.