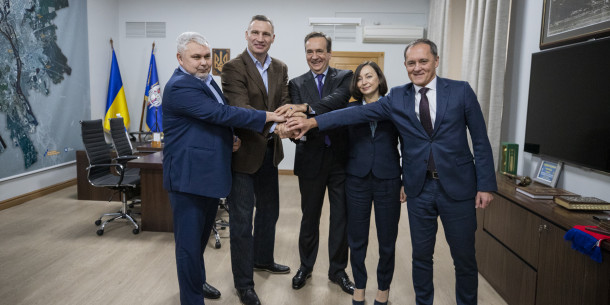 ​Kyiv has signed an agreement with the EIB, thanks to which the city will upgrade the rolling stock of public transport.
Kyiv has signed a 100 million euro loan agreement between the capital and the European Investment Bank (EIB). This agreement will allow the city to receive 100 million euros for the modernization of the trolleybus and metro car rolling stock. The agreement was signed by the mayor of the capital Vitaliy Klitschko and the head of the European Investment Bank's office in Ukraine Jean-Erik de Zagon.
"The loan agreement we are signing today is the best financial agreement for the city for the last 30 years. It will allow the capital to receive 100 million euros for the modernization of the trolleybus rolling stock. And also the metro cars rolling stock of the city. Without overstatement, this will help to increase accessibility and improve the quality of public transport services in Kyiv. I would like to emphasize that this is the first loan from the European Investment Bank in Ukraine, offered to the city directly without state participation. This new financing model is in line with the strategy of the Government of Ukraine aimed at financial decentralization and delegation of powers," Vitaliy Klitschko underlined.
According to him, the project will be implemented by the city through the communal enterprises "Kyivpastrans" and "Kyivskyi Metropolitan".
"EIB loan funds for this project are an opportunity for Kyiv to increase resources for the purchase of new modern trolleybuses and metro cars. And also - to expand the electric transport network. Being the first city in Ukraine that receive direct financing from the EIB is very important for us. We are grateful to the European Union and its bank - EIB - for such support and trust. The new electric transport will also contribute to the development of Kyiv as a modern and more environmentally friendly city," Vitaliy Klitschko underlined.
Source: https://kyivcity.gov.ua/news