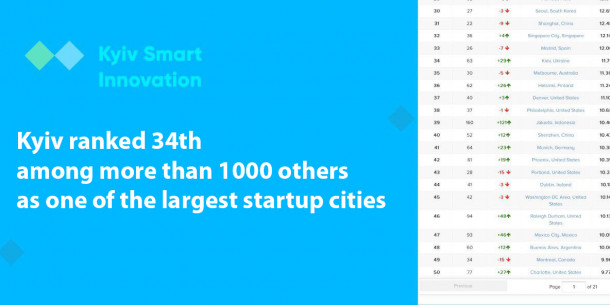 Kyiv doubled its position in the world ranking of start-up cities and took 34th place
Kyiv has doubled its position in the world ranking of start-ups and has taken 34th place. The StarupBlink Worldwide Startup Cartography Service rating is a global map that shows the status of startups in different parts of the world. During the rating, the data from more than 100 countries and 1000 cities were taken into account. Ukraine as a whole ranked 31st and thus rose by 4 positions.
At the same time, among the cities, Kyiv has sharply improved its position, which moved from 63 place to the 34th, outstripping the startup ecosystems of Helsinki, Munich, and Dublin. There were counted 321 startups in the capital.
The jump in the rating was achieved, among other things, thanks to favorable conditions for the successful launch of startups and improvement of their quality. The city`s authorities are actively working towards the introduction and support of projects designed to improve the quality of life in the city in innovative ways. Thus, for over three years of Kyiv Smart City's initiative, which brings together Kyivans, businesses, activists, and authorities to develop smart urban infrastructure. Thanks to such cooperation, everyone can contribute to the creation of innovative changes in the city.
An example of such activity is the Accelerator of Urban Projects, launched in 2018. Kyiv Smart City accelerator supports startups in their desire to become a part of the city's information and communication infrastructure. The Accelerator provides the selected projects with all the necessary resources to accelerate the process of finalizing the product and bringing it to the market, or at the stage of creating a pilot project.
In particular, the Accelerator has supported original smart-solutions that improve urban infrastructure, utilities, transport, education, and the cleantech industry. For example, the "Evolution" project is a virtual assistant for schoolchildren, which reminds us of preparation for control works, motivates for training, contains scales of success on various subjects, and "OnCharge" - a cloud service for controlling charging stations for electric vehicles.
Director of the Department of Information and Communication Technologies of the Kyiv City State Administration and co-coordinator of the Kyiv Smart City initiative Yuriy Nazarov commented on the position of Kyiv in the StartupBlink rating: "Improving Kyiv's position means that consolidation of efforts of the public and authorities increases the chances of successful implementation of innovative ideas. It is important that the initiative Kyiv Smart City supports startups appealed to develop the city and make life in Kyiv more comfortable, safe and innovative".