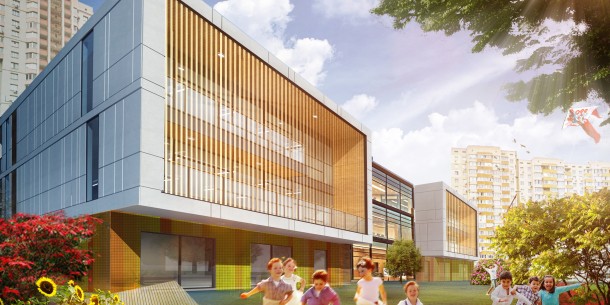 "Kyiv Investment Agency" has attracted over 200 million UAH of investments for construction of educational institutions
On December 19, 2017, at the meeting of the standing competitive commission on attraction of investors, winners were announced in the framework of the implementation of two investment contests for the construction of social facilities with the total value of more than 200 million UAH.
According to the Kyiv Investment Agency, the company "AR Osvita" LLC became the winner of the investment competition for the construction of a private school for 660 seats in the neighborhood of the Obolon residential on 10 Heroiv Stalingrada avenue. Within the framework of the project, the investor will invest UAH 169.4 million for the construction of the school, and additionally pay the city budget as a competitive contribution of UAH 15.1 million, which will be further directed at repairs of municipal schools in Obolonskyi district.
In addition, the competition committee has determined "Center for Child Development "Pikabu" LLC as the winner of the competition for the construction of a private preschool institution for 240 places in 8 microdistricts of the Pozniaky in the Darnytskyi district. The investor will pay up to the capital's budget 2 million UAH for the creation of social, engineering and transport infrastructure of the city of Kyiv. The total cost of the project is 54 million UAH.