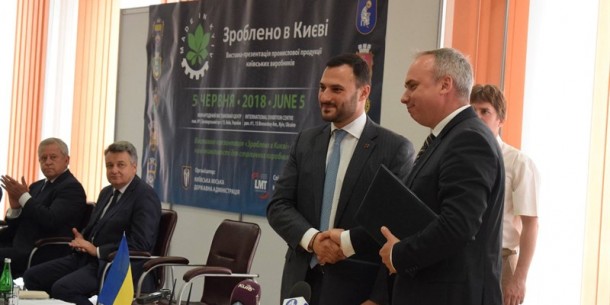 A memorandum was signed in the field of intensification of investment activity
In the framework of the exhibition-presentation of the Kyiv industrial enterprises "Made in Kyiv", deputy head of the Kyiv city state administration Dmytro Davtyan and chairman of the Board of the State finance institution for innovation Volodymyr Stavniuk signed a memorandum of understanding and cooperation.
The purpose of this memorandum is to create a framework for cooperation, exchange of information and strengthening of relations between the parties in the field of investment cooperation, and identify existing investment opportunities and projects in Kyiv to encourage investment in all sectors.
"In my opinion, the signing of this memorandum will significantly simplify the access of metropolitan enterprises and producers not only to the available resources, but also will open up opportunities for them to enter foreign markets. After all, the main task in the business sector is to act, as an intermediary between the Ukrainian business, especially the small business, and those whom it may be interesting. Certainly, the signing of the memorandum will become significant for the development of Kyiv business, we have been striving for this, "said Dmitry Davtyan during the signing ceremony.
The document defines the main areas of cooperation for the effective use of the financial, technical and technological potential of Kyiv city state administration and the State finance institution for innovation to intensify investment activity in Kyiv, as well as contributing to the creation of conditions for the development of industrial and technological capacity in the field of industry.
According to the director of the Department of Industry and Enterprise Development of Kyiv city state administration - Andriy Melnychuk, the document as an effective tool will promote intensification of the development and production of high-tech, energy-efficient, ecological, export-oriented and import-substituting products, as well as popularization of innovation and investment activity of capital industrial enterprises.
The memorandum comes into force from the moment of its signing and operates within five years.