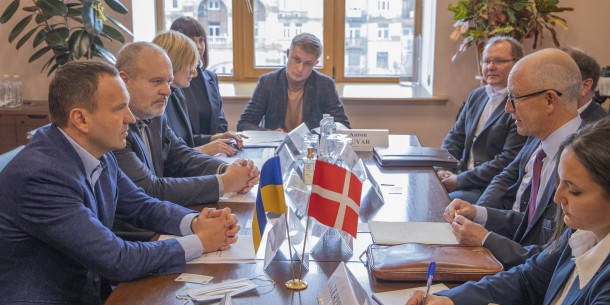 Cooperation with Denmark on modernization of the capital's water and heat supply systems was discussed in Kyiv
Deputy Head of the Kyiv City State Administration Petro Panteleev and Ambassador of Denmark to Ukraine Ole Egberg Mikkelsen discussed the experience and new developments in the field of water supply, sewerage and heat supply of cities.
According to Petro Panteleev, Kyiv is interested in establishing communication for further joint initiatives.
"We have a long-standing relationship with Denmark. In particular, a detailed audit and development of a strategy for the development of the capital's water utilities in 2002 were carried out with the assistance of Danish experts. We seek to develop partnerships in priority areas: water supply, sewage and central district heating. One of the important areas is the reconstruction of heating networks. 340 km of emergency pipelines have been replaced in the capital over the past three years. However, there are strategically important objects that need special attention. For example, these are networks located under the Paton Bridge, where we record significant damage due to wear every year. And we know that the heating networks produced in Denmark are one of the most reliable and modern in Europe", - said Petro Panteleev.
At the same time, Ole Egberg Mikkelsen stressed the importance of proper service for citizens, and any accident can significantly harm the usual rhythm of city life.
"I understand how important your work is for the progress of the city and we would like to support you", - said the Danish ambassador.
The Danish Ambassador also added that it would be appropriate to consider the Danida Business Finance project as a financial instrument, which can be fully applied in the case of repair work on Kyiv utility networks.
The meeting was also attended by representatives of the Danish company Per Aarsleff, which are world leaders in major repairs, major re-equipment of sewer systems, water supply systems with equipment that allows repairs without excavation. They have been working with Ukrainian companies for 25 years, in particular in Lviv, Odesa, Zaporizhia, Cherkasy, and Kremenchuk. Currently, they are working with colleagues from "Kyivvodokanal".
Source: https://kyivcity.gov.ua/news