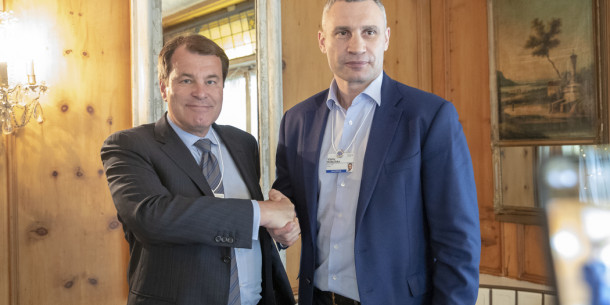 In Davos, Vitaliy Klitschko spoke about economic aid to Ukraine and Kyiv
Kyiv Mayor Vitaliy Klitschko took part in an informal meeting of world economy leaders (IGWEL) in Davos.
Vitaliy Klitschko emphasized that the idea of creating a Marshall Plan for Ukraine is important and must be implemented. Because Ukraine, which today is fighting heroically for its sovereignty and freedom, needs not only economic recovery, but also a large-scale reconstruction of the infrastructure, which is being vigorously destroyed by russian barbarians.
"Our partners are ready to help. But the key factor for them is a cessation of hostilities. I am convinced that we will have a great chance not only to rebuild the economy but also to make a big leap in the modernization and development of our state. And we need to work on it today. It is about a Marshall Plan, which our partners are already working on and will be ready to present," Vitaliy Klitschko said after the meeting.
In particular, the mayor of Kyiv met with IMF Managing Director Kristalina Georgieva, European Commission President Ursula von der Leyen, Siemens CEO Roland Bush, Munich Security Conference Chairman Wolfgang Ischinger, and Davos Forum Founder Klaus Schwab.
Vitaliy Klitschko also met with EBRD First Vice President Jürgen Rigterink. Vitaliy Klitschko thanked for the long-term cooperation of the bank with the capital of Ukraine. During the meeting, the Bank's First Vice President emphasised that the EBRD is ready not to wait, but to invest in reconstruction projects in Kyiv and Ukraine today. And open to proposals for projects to be implemented.
Source: https://kyivcity.gov.ua/news