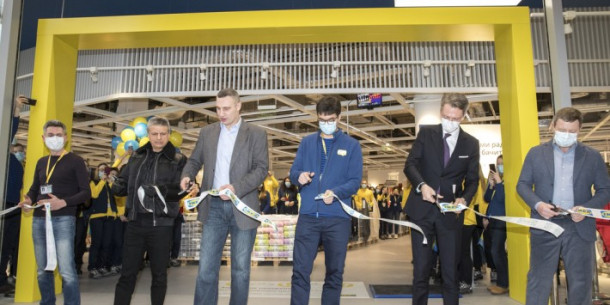 Vitali Klitschko attended the opening of the first IKEA store in Ukraine
Kyiv Mayor Vitali Klitschko took part in the opening of the first IKEA offline store in Ukraine. Together with the mayor, the first store of the Swedish company in Kyiv was opened and inspected by the head of IKEA-Ukraine Florian Melle and the Ambassador of Sweden to Ukraine Tobias Thyberg.
"I am pleased to congratulate IKEA, Kyiv residents and all Ukrainians on the launch of the first offline store in Ukraine. And I am glad that it opens in the capital. We have worked together to implement this idea. We met 4 years ago in Davos, several times in Kyiv. And now we can see the implementation of our cooperation. This is especially important in such a difficult situation for business in all countries, caused by a pandemic", - said Vitali Klitschko.
He also stressed that one of his important tasks as the mayor of the European capital is to attract foreign investment to Kyiv.
"We understand that stability and predictability of the economic situation are extremely important for a business. That is why the city authorities have introduced openness and transparency in their work so that investors and foreign companies are interested in entering the Kyiv market. I am pleased that our multi-year cooperation with the Swedish company IKEA has given results ", - said Vitali Klitschko.
The mayor noted that the arrival of an investor such as IKEA is especially valuable in the current situation in the world due to the pandemic.
"And this is the positive signal that is needed to attract other international partners. We continue to work to make Kyiv attractive for investors and a comfortable city for its residents - with quality goods and services!" - Vitali Klitschko emphasized.
Ambassador of Sweden to Ukraine Tobias Thyberg stressed that IKEA not only opens the first store in Kyiv but also promotes responsible consumption, gender equality and sustainable development.
"I would like to congratulate, first of all, the staff, the management of IKEA, the city authorities of Kyiv for the joint efforts to open the first store of IKEA in Ukraine during the pandemic", - said Tobias Thyberg.
The Swedish company plans to open more stores in Ukraine.
Source: https://kyivcity.gov.ua/news