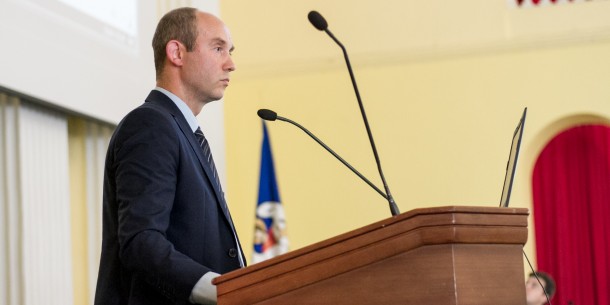 KCSA PRESENTED INITIATIVES IN THE FIELD OF THE PUBLIC-PRIVATE PARTNERSHIP
The capital presented its initiatives in the field of public-private partnership during the international conference "Implementing People First PPPs for the SDGs: international best practices and recommendations for Ukraine and neighboring countries". Deputy Director of the Economics and Investments Department Oleg Svitlychny told the participants about the preparation of PPP's road safety projects, the reorganization of the public hospital infrastructure and the creation of the Tram-Train system.
"Realization of the project "Implementation of the fixing violations system in the field of ensuring road safety in the automatic mode in the Kyiv city" through the use of the mechanism of public-private partnership will allow the city to attract not only extrabudgetary funding, but also a reliable operator for further management of the system. The project has an enormous socio-economic importance as it could reduce the number of accidents, create jobs and improve the culture of driving in the city/ This project will simultaneously provide additional financial revenues to the city budget" - said Oleg Svitlychny.
He admitted that the city has already received a corresponding initiative from a private partner, a feasibility study has been developed, and a draft opinion has been prepared based on the results of the initiative.
"One of the priorities of urban reforms is the organization of public health infrastructure in the framework of the PPP. The project is currently being developed jointly with the IFC. It involves the merger of four existing hospitals into one, newly built. However, the implementation of such large-scale projects requires significant funding for both design and construction. In addition, an important aspect is the successful international experience in implementing such projects, which we are studying" - said Oleg Svitlychny.
He has also described the creation of a two-mode rail system "Tram-Train" from the residential area Troyeshchina to Karavaevy villas.
"In the framework of provision of transport connection for inhabitants of the residential area Troyeshchyna and the left bank with the city center the key transport infrastructure is planned to create a two-mode rail system. Without significant interference with the existing rail infrastructure of the city, it will be possible to combine the left and right banks with an additional high-speed public transport system" - Oleg Svitlychnyi said.
According to him, for the implementation of the project "Tram-Train" it is still important to find a partner with relevant experience in implementing similar projects.