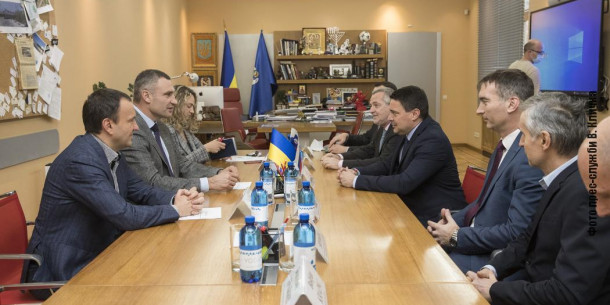 Vitaliy Klitschko and Velenje Mayor Peter Dermol discussed the introduction of energy-saving technologies
The mayor of Kyiv Vitaliy Klitschko met with the mayor of Velenje municipality (Slovenia) Peter Dermol. The Slovenian delegation arrived in Kyiv to get acquainted with the social and economic model of the city development. In particular - with modern practices of implementing energy efficiency measures, resource-saving technologies, the transition to alternative energy sources.
The meeting was supported by Deutsche Gesellschaft für Internationale Zusammenarbeit (GIZ) GmbH and the Embassy of the Republic of Slovenia in Kyiv. The Municipality of Velenje is a partner of GIZ in disseminating European practices for the implementation of innovative projects and programs in the field of energy efficiency and energy saving. With the assistance of GIZ, the municipality has repeatedly received study visits to share experiences and delegations of mayors and united territorial communities, public servants, and deputies of Ukraine.
"One of the fundamentally important areas for the Kyiv authorities is the modernization of the city's centralized heating system and its transformation into an energy-efficient and competitive one. We have launched a large-scale modernization and repair program. And for the last three years, 340 km of heating networks have been completely reconstructed. We use the latest technologies to update them. The technical re-equipment of the Energia waste incineration plant has begun, where installed a chemical cleaning system. The total city investment in the modernization of networks and energy facilities reached over 1.5 billion hryvnias", - said Vitali Klitschko.
Today, the municipality of Velenje is one of the leaders in the implementation of EU projects and European best practices in the field of environmental restoration and reducing the negative effects of mining, implementing energy efficiency technologies. According to its mayor, the municipality has developed several innovative projects and the experience exchange with Kyiv, which is on the way to modernize its energy facilities is also very important.
"Against the background of rising costs of traditional energy resources, such as natural gas and coal, Slovenia already has experience in switching to alternative sources, however, our experts also want to get acquainted with the energy efficiency practices in the Ukrainian capital", - said Peter Dermol.
In turn, the Ambassador of the Republic of Slovenia Tomaž Mentsin thanked the Mayor of Kyiv Vitaliy Klitschko for today's meeting and noted the high level and effective cooperation between the various cities of Slovenia and Kyiv.
Source: https://kyivcity.gov.ua/news/