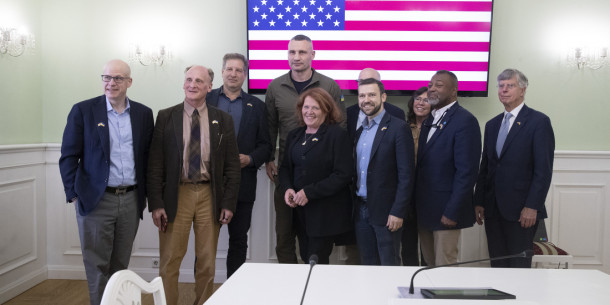 Vitaliy Klitschko met with the delegation of the American organization RDI
The Chairman of the Association of Cities of Ukraine, Mayor of Kyiv Vitaliy Klitschko met with the delegation of the American non-profit organization "The Renew Democracy Initiative" (RDI), led by the President of the Board and former US Senator Heidi Heitkamp, at the capital city hall. They discussed further assistance to Ukraine and Kyiv.
"Thank you for your support and help. I know that since the beginning of the full-scale invasion of Russia, RDI has provided more than 7 million dollars. to ensure humanitarian needs in Ukraine. These funds were directed to the construction of 50 modular houses for displaced persons. In Buch, Mykolaiv, and Kryvyi Rih, they financed the installation of mobile water purification units. Now you are planning to install such equipment in Makarov. This is really a help for us. Thank you for the four thousand bulletproof vests that save the lives of our defenders at the front. I also know about your cooperation with volunteer organizations. In particular, with the "Return Alive" fund. And also for constant consultations of our military," Vitaliy Klitschko said.
He emphasized that the capital of Ukraine remains the enemy's number one target. The aggressor constantly attacks the city from the air. Currently, the priority for the Kyiv authorities is to ensure uninterrupted work of city services to provide quality services in this difficult time. In particular, this concerns the operation of public transport, medical institutions, communal services and ensuring the functioning of critical infrastructure.
The metropolitan authorities are also working on the modernization of the notification system, striving to make the city as comfortable and safe as possible for people.
"And this war showed that new strategies and new knowledge can help defeat a large "barbarian horde" on the battlefield. Your experience in various fields is enormous. Thank you for using it to help Ukrainians. And I am sure that this meeting will help in our further cooperation. In particular, also regarding the improvement of Kyiv's security system," the mayor of the capital emphasized.
Vitaliy Klitschko emphasized that an important task today is the further implementation of democratic reforms in Ukraine, the development of an effective partnership between the government and civil society, strengthening local self-government - for the sake of rebuilding the country and the capital, the success of Ukraine.