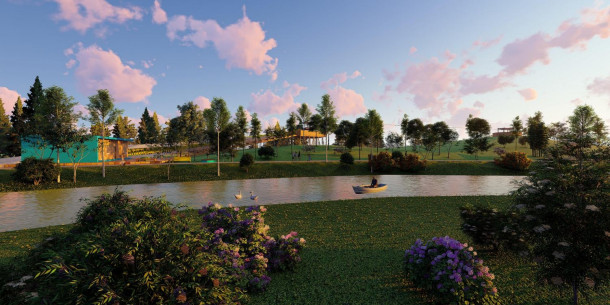 Terms of investment competition for arrangement of active entertainment area in Peremohy Park have been determined
The permanent commission of investment attraction has approved the terms of the investment contest for the implementation of the project "Arrangement of active entertainment zone for adults and children with the improvement of territory in Peremohy Park". The terms will be published in the city newspaper "Khreschatyk. Kyiv", the Department of Economics and Investment of KCSA reports.
The object of investment is located in the territory of Peremohy Park in the Dniprovskyi district and has an estimated area of 0.44 ha. According to the terms of the investment competition, the estimated area of the entertainment zones will be 785 square meters. It will be equipped with routes for zipline, roller skating, and tubing about 560 m long, and three blocked prefabricated structures will be installed - inventory, training and utility premises.
The investor shall have the opportunity to construct active entertainment areas for children and adults and to improve the territory no later than 9 months after the contract has entered into force. The estimated cost of the investment facility is UAH 2.7 million.
The customer of the project implementation is a utility company for the maintenance of green spaces of the Dniprovskyi district of Kyiv. The Kyiv Investment Agency is the customer of preparatory (pre-investment) works.
The best proposal for the implementation of the project for the area of active entertainment for adults and children with the improvement of the territory in Peremohy Park will be determined by holding an open competition for attracting investors. The start of the competition will be additionally notified.